Embedding TiddlyWiki in Thunderbird
I couldn't help but be impressed by post today about embedding TiddlyWiki in Outlook. Using my common technique of 'improving' other's ideas I had to check to see if I could pull off a similar trick with Mozilla Thunderbird (though I prefer the portable version).
Its a piece of cake to get working.
Set a TW file as your default start page
Here are the steps:
Open Thunderbird (I'm using 1.5 though it works in 1.0 version)
Select 'Options' under the 'Tools' menu
Under the general tab, in the 'Thunderbird Start Page' put the path to you TW file. (The easiest way to get the path is to open the TW in Firefox and copy the address URL from Firefox into the location box in Thunderbird)
Under the 'Privacy' tab and the 'General' sub-tab allow JavaScript in mail messages. (I unchecked the 'Block JavaScript in mail messages' option)
Click 'Ok' to save the settings
View the TW in Thunderbird
This was the toughest part for me to find (though its rather obvious)
Click in the 'Go' menu and select the 'Mail Start Page'
Thats it
Here is the all important sceenshot: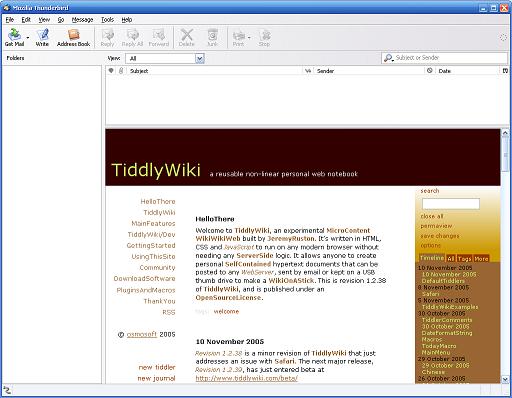 Gotchas
Whenever you open an email it navigates away from the TW page, so you'll want to make sure that you have autosave on.
Nifty benefits
This keeps your TW nearby and it will mirror any changes you make to it outside of TW in Firefox
You can even point it to a TW online like pytw
TW acts just like you would expect with all your plugins ans TW goodness.